"

I have seen Carley move in the right direction. Her writing is improving more and more, and her musical universe is being refined. Her voice too, more confident, but what I will remember the most is her authenticity. Pearls like Carley, are not found very much in a lifetime." - Indie Music Centre
Carley Varley
Award Winning Musician
Carley Varley is an Indie Alternative Artist based in Winchester UK. Previously a Pop Artist, Carley is now taking inspiration from some of her favourite bands that she grew up with like Linkin Park, Paramore and The Pretty Reckless to step into a more Alternative genre. A very emotive songwriter, Carley focuses on the frustrations in relationships and expresses this with the instrumentation and lyrics in her songs. Carley has gone from busking on the streets of her hometown, to performing at festivals and events across the South West of England.
A Little Bit About Carley Varley
Introducing Carley Varley, an Alternative Artist from Winchester who is fast becoming one of the most exciting breakthrough artists in the South today. 
Carley is a versatile and talented singer-songwriter and musician. Mixing Pop melodies with edgier Indie/Rock elements, her catchy songs and lyrics speak directly to her audience, with influences from Taylor Swift to Hayley Williams.
Background 
Carley has been songwriting and playing the guitar and piano since the age of fourteen.  In 2016 she was spotted busking in the quaint seaside town of Lymington on the south coast and was soon catapulted onto the stages at The Ritz and The Waldorf in London. Carley and her guitar have been regulars on the Dorset and Hampshire music scene ever since. Carley has built up quite the reputation for herself in the past few years, quickly rising through the local scene and performing at high profile venues and festivals. Carley also has a band consisting of electric guitarist Alex Tompkins, bassist Jordan Shepherd and drummer Fred Sedgeley, they perform Carley's original songs and covers at festivals across the UK. 
Carley is a standout vocalist with crystal clear delivery. Her performances are joyful events where she brings her effervescent personality to the stage with songs that audiences delight in singing along to. 
Releases 
Carley released her first EP in 2019 called 'Captured Memories' with the three tracks 'Won't Say Sorry', 'Honest Conflict' and 'Found'. Carley's next single 'Since You Left' was released in February 2020 and has had over 30,000 streams on Spotify. In 2021/22 Carley released her 'Seasons' EP, with her four tracks 'Going Under', 'Miss Me?', 'Shore' and 'Fall.' In 2022, Carley began the release of her 'Homesick' EP, her single 'Better Without Me' was the first single stepping into her new genre. Carley's singles 'Somehow I've Alive', 'I'm not angry anymore', and 'Envy' were also featured on BBC Introducing in 2023 as part of her Homesick EP. 
Career Highlights 
Her 2020 and 2021 single releases 'Since You Left' and 'Going Under' were both featured on 'BBC Introducing'. She was also interviewed by the BBC again this year about her forthcoming release 'Miss Me?' from her new 'Seasons' EP and her advice vlog for musicians 'CVLOG.' In 2022, Carley's track 'Fall' was also featured on BBC Introducing aswell as her new singles 'Better Without Me' and 'Somehow I'm Alive.' Carley headlined Poole Harbour Festival in 2022, performing her original songs acoustically, being the only solo act and woman to headline that year. In 2021, Carley supported Lauran Hibberd and Jerry Williams at The Madding Crowd in Bournemouth, Carley also graced the same stage as acts such as Scouting for Girls, Natalie Imbruglia and Sophie Ellis Bextor at Foodies Festival across the UK. Carley also headlined the Dorchester Cider Festival Acoustic Stage in 2022 and performed on main stage at Dorset Seafood Festival, Lymington Seafood Festival and Dogstival. Carley also performed the acoustic stage at Wickham Festival in 2022 and 2023.
Carley won a Venus Award for Musical Talent in 2018, she was also an 'Open Mic' UK finalist in 2019, coming in the final 30 after 10,000 auditions across the UK. 
Press Buzz About Carley 
 Send Me Your Ears Blog
"Carley throws everything she's got at the vocals in this track and her passion is reminiscent of Amy Lee. Carley makes superb use of different sections and effects to maintain the listeners' attention right until the very last second. The stinger ending leaves you wanting more, and we hit replay, thrilled at the versatility shown by this highly talented British singer-songwriter. Somehow I'm Alive feels like a female-fronted Linkin Park song. With some truly exciting genre-crossing moments of electronic instrumentation and heavy guitars, this is an extremely creative piece of music, worthy of playlisting on any rock charts."
 Edgar Allen Poets Blog
"Carley Varley's voice reminded me of Taylor Swift's and adding a more rock arrangement creates a truly unique sound blend.  Already in the past, I had appreciated her great songwriting skills but in my opinion with this song, she adds a very important block to build her artistic vision."
LATEST NEWS
Carley's is releasing her next EP 'Homesick' throughout 2023, her next single 'Homesick' is due for release this autumn. 
Press Photos
Carley Varley BAND // The Attic 2023 // Tony Palmer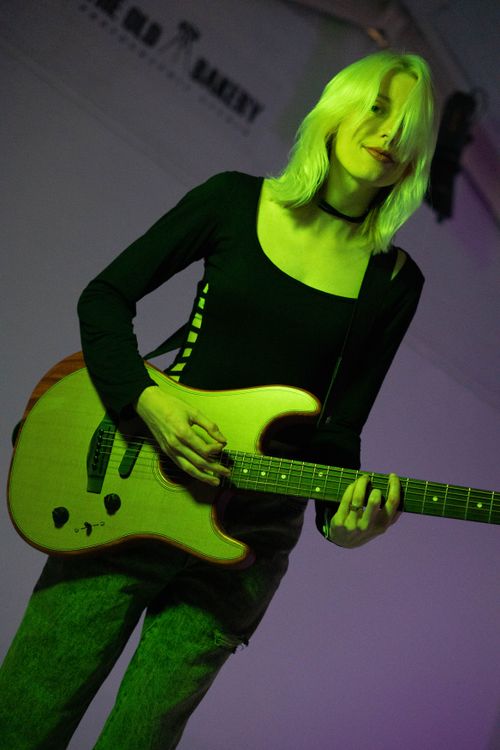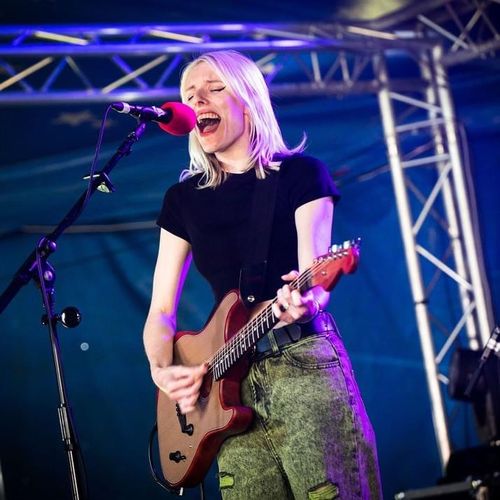 Milford on Sea Music Festival // 2019 // Lucie Tamson